Using ISO9001 quality management systems,
we carry out thorough quality control
and build reliable inspection equipment and systems
Kansai Pipe was one of the first companies to obtain ISO9001 and ISO14001 quality management certification, and we conduct thorough quality management and improvement activities to reduce our burden on the environment.
In addition to rigorous quality checks at each step of our processes, we make every effort to ensure quality control through final product inspections and various mechanical tests. We are fully equipped with a wide range of measuring instruments, including tensile testers, thermography, and ultrasonic flaw detectors. Our dedicated Quality Assurance Division uses these tools to perform thorough inspections. We strive to continually improve and strengthen our quality framework and processes.
We believe quality personnel is the key to creating quality products, so we focus heavily on employee education. We hold regular training sessions for employees in the manufacturing department to improve their skills and techniques for maintaining quality. All of our employees are highly conscious of maintaining and improving quality. The high reliability of quality that we have achieved through our efforts to improve customer satisfaction is reflected in our track record in supplying OEM products to major manufacturers.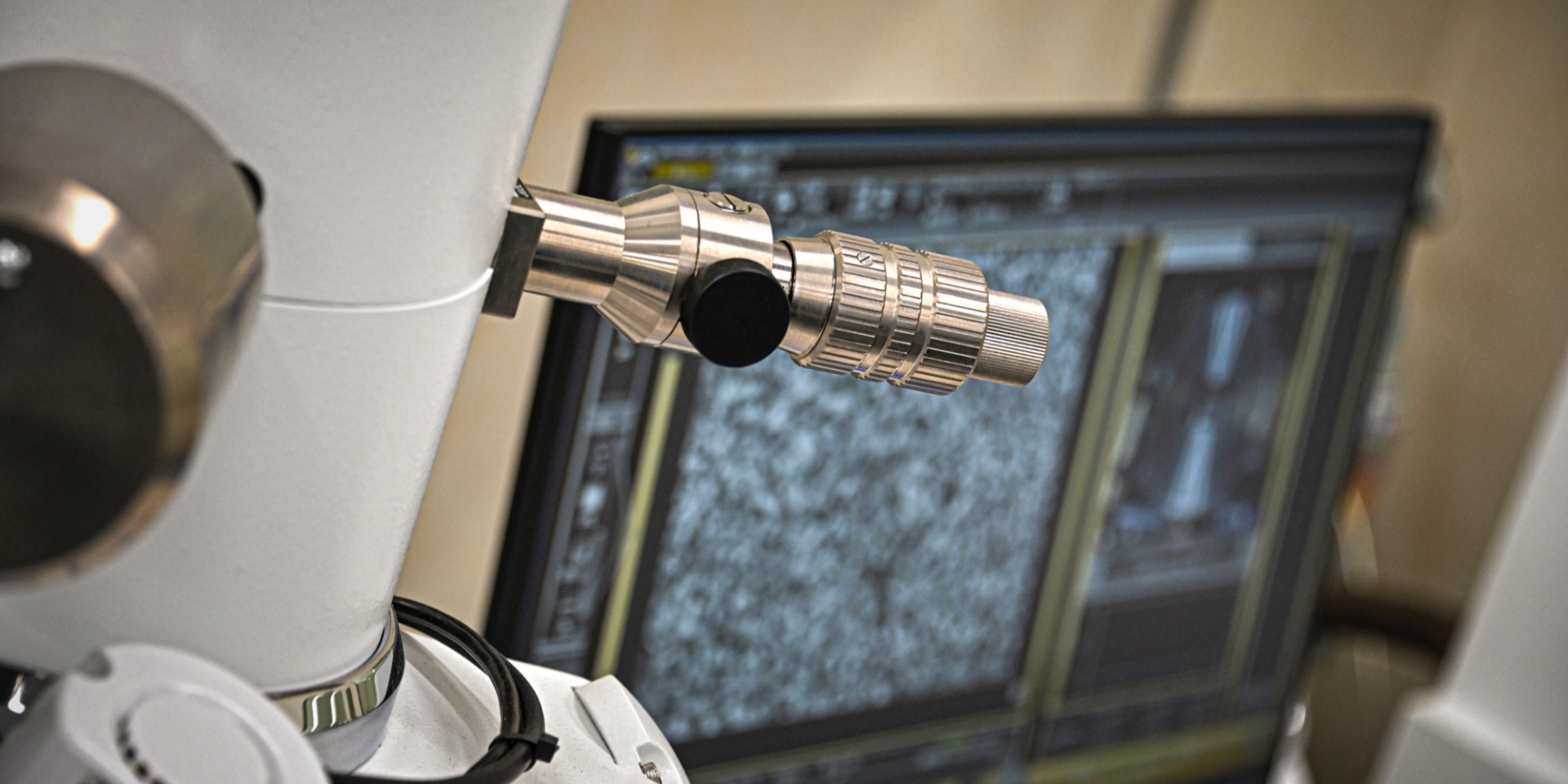 By introducing the latest observation equipment,
we analyze and evaluate metal materials
aiming for quality that's a step above the rest
As a manufacturer that supplies metal materials and a company that supports customers' research and development, we aim to achieve a level of quality that is a step above the rest. For this purpose we have introduced cutting-edge observation equipment such as scanning electron microscopes with EDX systems and omni-directional electric stage microscopes.
We have developed a system to identify the source of manufacturing issues by observing in-house the quality of metal materials and the stability of their structure, allowing us to make prompt improvements.
By resolving issues early, we not only maintain and improve quality, but also accelerate prototype development. We also accumulate knowledge by conducting internal evaluation and analysis, which we apply in the development of new technologies.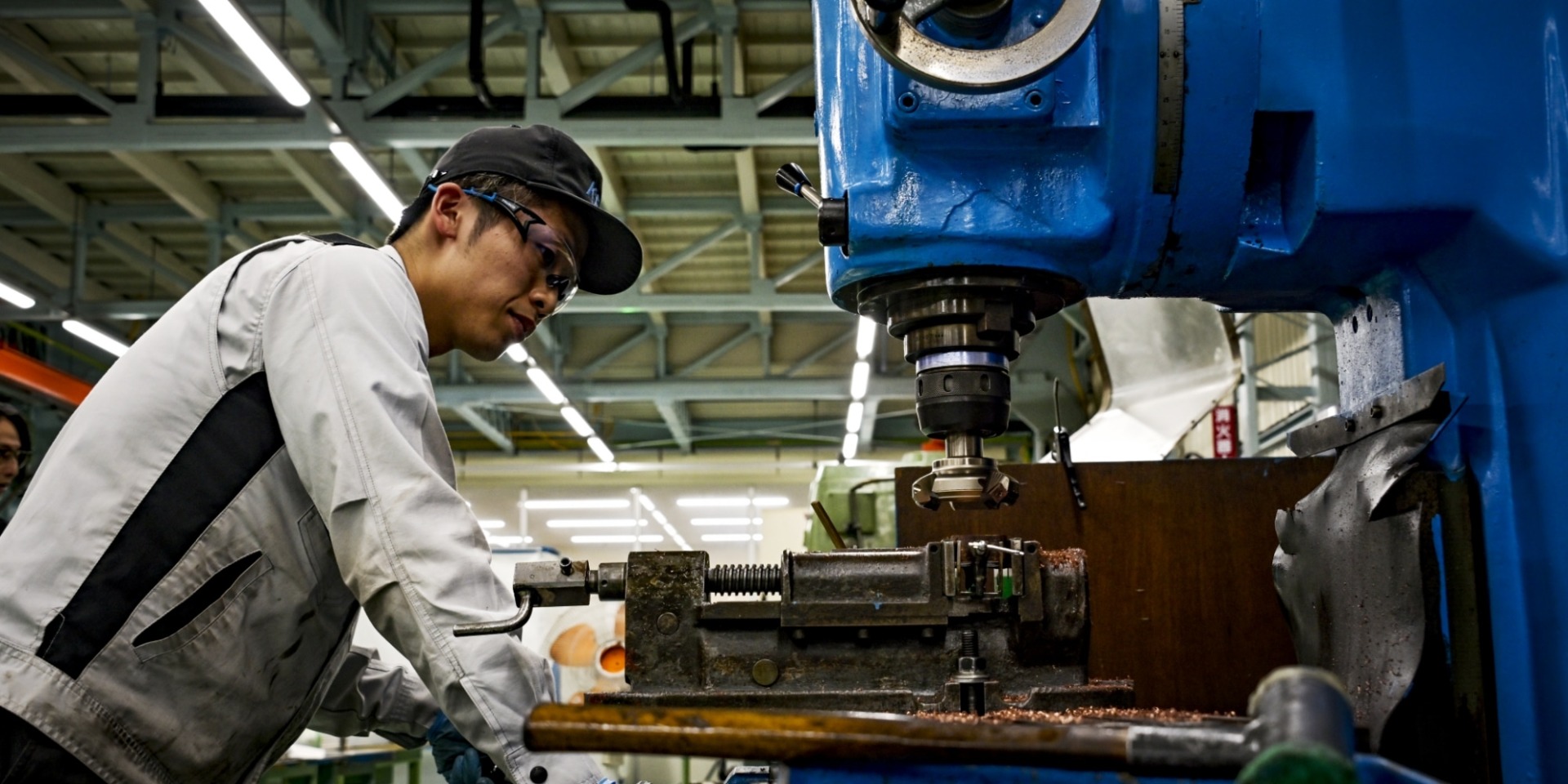 Plant engineers to maintain
200 types of machines
Strength that won't stop production
Kansai Pipe has a dedicated in-house machine maintenance and servicing unit, and strives to build a stable production system. Since we are involved in a wide variety of manufacturing and processing operations, from material processing to cutting processing with machining centers and assembly, our company maintains an inventory that contains over 200 different types of machines.
To prevent breakdowns and maintain the performance of our machinery, we have established an in-house equipment engineering department. We promote preventive maintenance by conducting regular inspections and repairs, in addition to our corrective maintenance works round the clock. We also implement measures to protect our safe working environment on a daily basis.
In addition to raising awareness of maintenance and improving skills throughout the company, our equipment engineers and machine operators work together to carry out predictive maintenance and pursue the creation of "a manufacturing site that never stops production."
Analogue x digital x multiple generations
Inside Story
One step ahead, one step above
Kansai Pipe's Quality Assurance Department is home to a wide range of machines, from decades-old analog equipment to state-of-the-art digital equipment. One could say that our lineup could only be found at a metal material manufacturer with over 80 years in the industry.
For example, we utilize both analog and digital surface roughness profilers to analyze the surface of processed products.
By analyzing digital number output in conjunction with analog waveforms, we obtain a more thorough understanding of the principles behind our surface roughness profilers and make better decisions in our improvement processes. Our Quality Assurance Department has a multi-generational staff of newcomers and veterans, striving to ensure the next generation can inherit our quality assurance, metal material analysis, and evaluation techniques.