We respond to all requests
from Kovar pipe with high-precision material technology
to high-precision material technology
Kansai Pipe Industries manufactures a variety of pipes, bars, and wire materials, primarily ones made of non-ferrous metals such as aluminum and copper alloys. Pipes can be processed with high dimensional accuracy and without material loss by using a manufacturing process involving cold-drawing the pipes through a die, rather than by cutting. By combining this technology with heat treatment technology, we have increased the accuracy and strength of manufactured materials, and are able to supply products to fields with high accuracy requirements. These fields include optical communications, automotive industries, and medicine. Through the development of straightening and correctional technologies, we are able to meet a variety of manufacturing requirements, including a need for thinner pipe walls.
One of the products that integrates these technologies is Kovar pipe. Kovar, an alloy of iron, nickel, and cobalt, has the same low expansion characteristics as ceramic and is used for optical communications and semiconductor lead components. Although it is a difficult-to-cut material, Kansai Pipe Industries' Kovar pipes boast the world's top-class market share because of its high accuracy.
Additionally, we pride ourselves on our material processing technology, which is an application and development of core technology. Examples include precision cutting of aluminum oxide dispersion strengthened copper (ODS) used for spot welding electrode materials, and 0.1 mm slit processing of the evenly-heating plates used in semiconductor manufacturing. We are also skilled at manufacturing composite wrought materials and deformed tubes made of special alloys, and we can customize the materials, physical dimensions, and sizes suitable to the usage environment.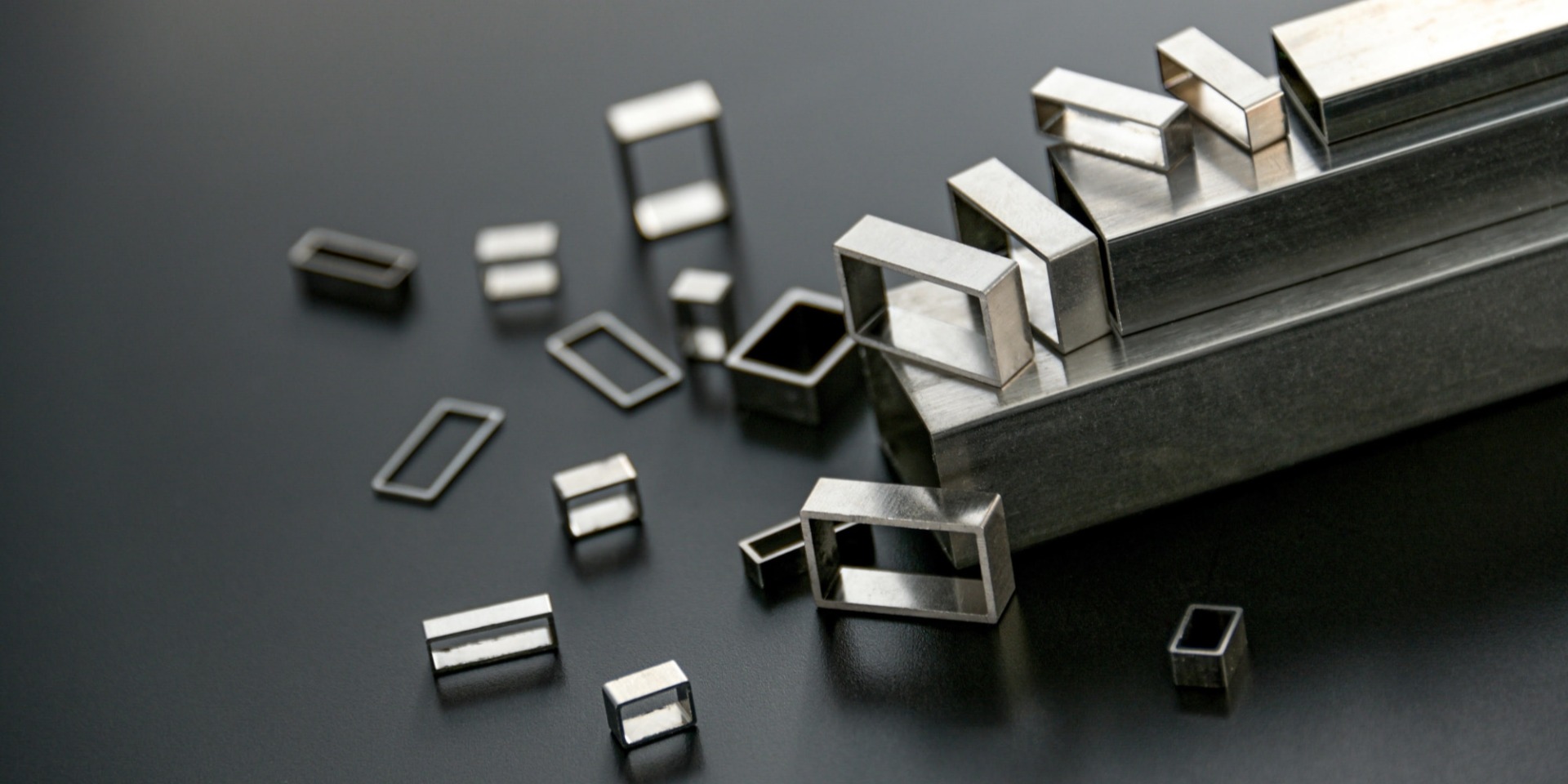 Cladding, machining, and welding
with the total power of technology
to find optimal solutions.
One of Kansai Pipe's core competencies is using our joining technology on dissimilar metals by harnessing our unique knowledge of material selection methodology and clad ratios acquired from our experience as a metal material manufacturer. On request, we can manufacture and process clad materials (clad metal) that combine metals with different characteristics.
Although we are a metal material manufacturer, we can also take advantage of our secondary processing technologies such as machining, welding, and bending. For example, when working with difficult-to-cut materials, we utilize heat treatments during our machining process. Our many years of aluminum alloy manufacturing has enabled us to apply our knowledge in advanced aluminum welding technologies.
In order to meet the diverse needs of our customers, we have an in-house design team that is able to perform structural calculations, as well as process metal housings for IoT products. We are a one-stop shop for everything from materials to secondary processing and assembly, and we challenge ourselves to make the best proposals for solving manufacturing-site problems.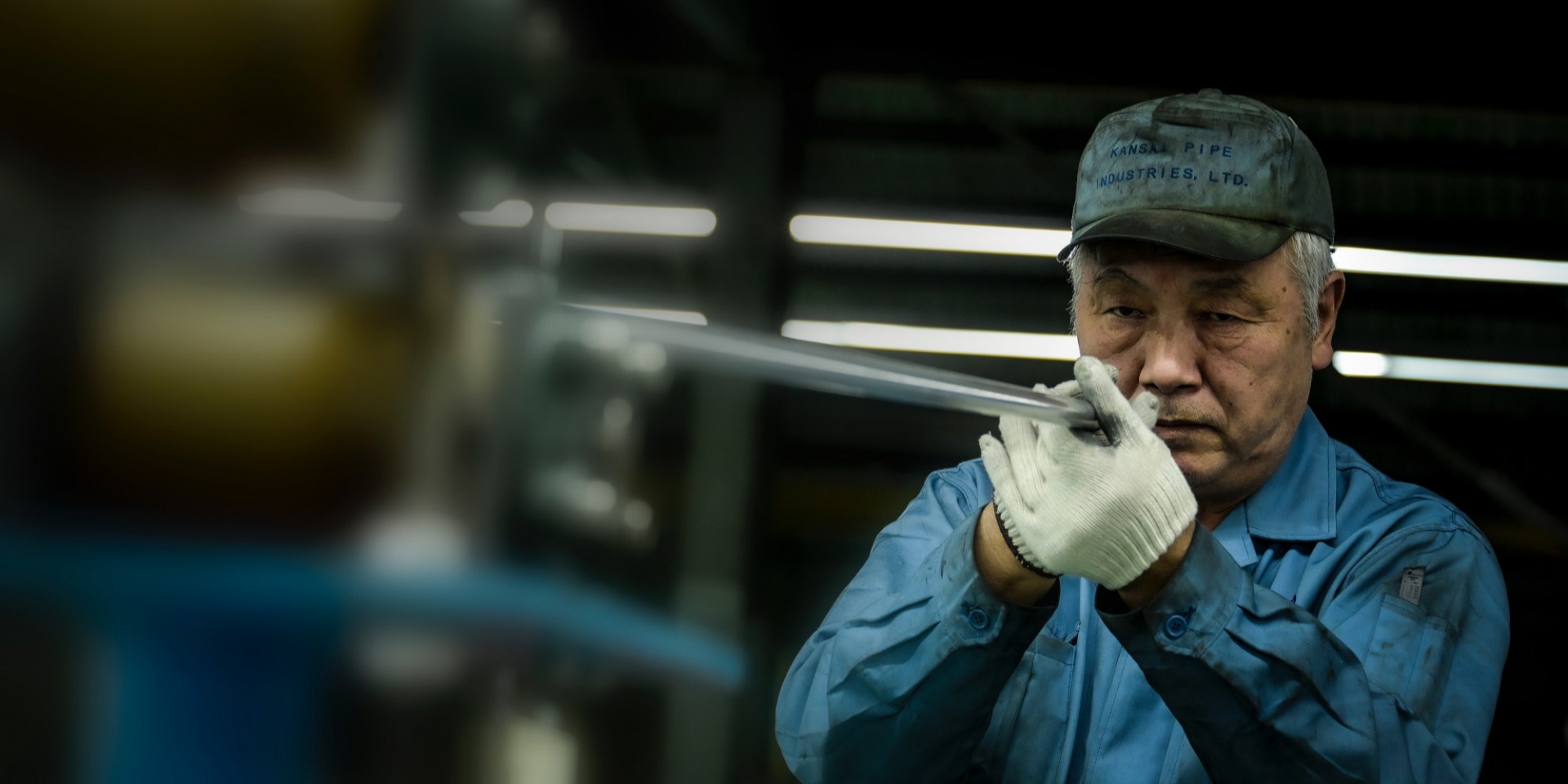 "Manpower" is the source of technological capability
results are achieved
by passing on technology and skills
Kansai Pipe believes that technology can only advance from one generation to the next if we build up the capabilities of the next generation. This belief drives us to recruit new employees every year and engage in personnel succession planning, so that generational gaps don't create technological gaps.
Even during market downturns, our company continues to hire regularly and pass along our unique technology. At the same time, it strives to create a personnel system and work environment where each engineer can feel rewarded, grow, and have their own individual dreams. As a result, 100% of our employees stay with the company for at least 5 years.
At each manufacturing site, engineers of various generations, from new to experienced, are eager to build up their skills and technological knowledge. We strive not only to improve technology but also to create a rewarding work environment, through focusing on skill training, qualification acquisition programs, and promoting quality control education.
Manufacturing without creating burdens
Inside Story
One step ahead, one step above
As an engineer who has overseen the manufacturing site of Kansai Pipe for more than 50 years puts it, "A problem with a material created by ten material suppliers can cause trouble for thousands of processors. We need to manufacture our products in a way that doesn't burden others." Kansai Pipe has continued to manufacture materials that other companies have been forced to recall. These include Kovar pipes, for the manufacturing of which Kansai Pipe boasts a top-class market share, and aluminum oxide dispersion reinforced copper (ODS), which is indispensable for resistance welding of lithium-ion batteries.
"Both products were looked down on. 30 years ago, no one thought that telecommunications would transform into such a high-speed, high-capacity industry. But we have continued to produce these products. That's the level of commitment we hold in fulfilling our responsibility as a supplier."
"Manufacturing is not an industry in which it is easy to produce results within 3 or to 5 years. A product made one year can be imitated quickly and become useless the next year. Materials that are developed over decades are easier to use." We will continue to carefully produce easy-to-use materials.